Castle Vale Nursery School Featured in the Mirror
Castle Vale Nursery School Featured in the Mirror
18 November 2016 (by lbrodie)
Article in the national newspaper The Mirror looking at the threat of closure of maintained nursery schools, featuring BNSCT nursery, Castle Vale Nursery School.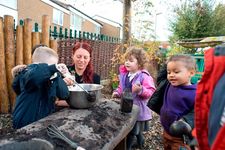 Nurseries are the first test of Theresa May's promise to improve social mobility. The years children spend at nursery could help close the gap between their future and the future of those from wealthier backgrounds.
Multiple studies have shown the single most effective institution for creating social mobility is not the grammar school but local authority nursery schools – known as 'maintained' nurseries.
Read the full article here.